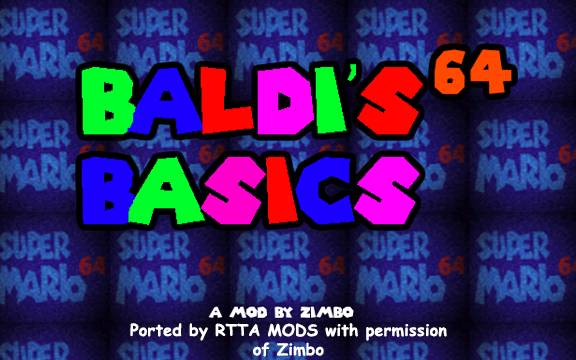 Baldi's Basics in Biology and Zoology 64
A downloadable mod for Windows
(NOTE: This port was made with the permission of Zimbo, the Baldi's Basics 64 original creator, so this isn't a illegal port or something like that)

Baldi's Basics in Biology and Zoology 64, is a port of Baldi's Basics 64 by Zimbo to Alex Basics made by RTTA Mods.

Story: Mario has invited you to his house again, but this time he has improved his house and brought new challenges for you. Try to escape from him and his friends as fast as possible!
Characters: Mario (Alex) - Princess Peach (Dolly) - Chain Chomp (Ms. Inmortal) - Toad (Asmodena) - Pokey (Scrina) - Bowser (Candice)

I hope you enjoy this mod as much as I do, I made this mod as a kind of announcement that I'm going to try to get back to this Baldi modding thing.
If you see a incomplete texture or something like that in this mod, please say it in the comments. With that said, goodbye!
Credits:
- Nintendo (Super Mario 64 creator)
- Zimbo (original BB 64 mod creator)
- RTTA Mods (creator of the port)
Install instructions
Extract the .rar archive and enjoy.